Product of the highest quality
Click on the individual icons to see the description
Restore natural beauty of your skin
We have created a product of the highest quality for you.
iCollagen Beauty contains an advanced combination of the best ingredients that work in harmony to beautify your skin with an added anti-aging effect that also ensures the healthy functioning of your body throughout the day.
In consultation with specialists, the harmony of beauty and health has been balanced through proportioning of the individual components contained.
100% hydrolyzed marine collagen
100% hydrolyzed marine collagen
gives your skin elasticity and firmness from the inside, restoring your skin's natural beauty and youth.
Phytoceramides
suppress the weakening of the facial skin and slow down the development of wrinkles. Protect your skin from UV radiation with the strong antioxidant
Red Orange Complex®
, which significantly reduces the formation of unwanted skin pigmentation.
Hyaluronic acid
, with highly elastic properties, will provide your skin with the necessary deep hydration, nutrition, regeneration, and overall skin rejuvenation.
Coenzyme Q10
prevents brittleness of hair and hair loss and enhances the natural strength of nails.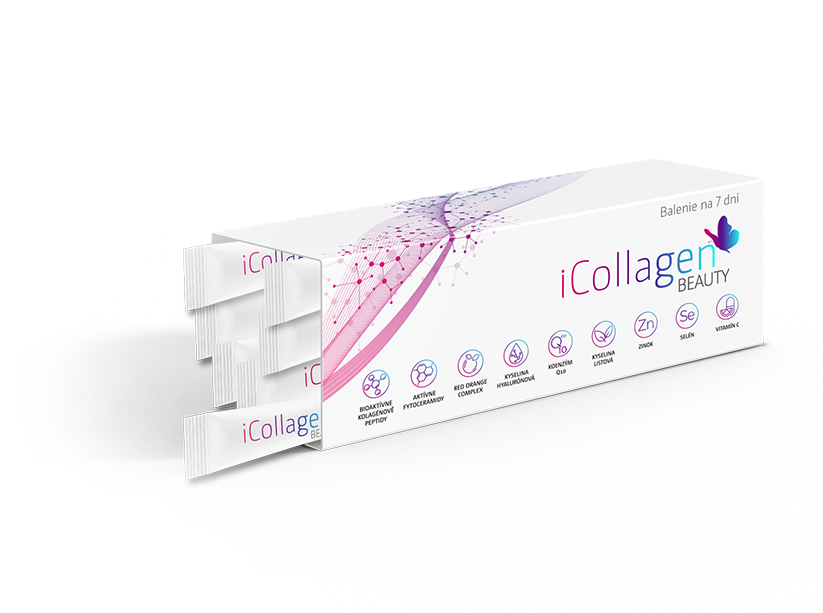 How do you prepare your drink?
Pour 1 sachet of iCollagen Beauty into approx. 150 ml of water and mix well. After complete dissolution, drink the solution.
For me, as a dermatologist who also deals with aesthetic medicine, its quality is also crucial, in addition to its composition. When the iCollagen team approached me for a consultation on the composition of this product, I knew right away that they really cared about both of these aspects. And so a comprehensive nutritional supplement was born, which offers what it promises in the form of a very tasty drink.
As I got older, my wrinkles began to increase naturally and my skin radiance was lost. Thanks to the unique ICollagen Beauty product available on our market, a lot has changed. After a month of regular use, my skin is visibly clearer and firmer. The daily dose is practically packaged with a & nbsp; refreshing taste, without artificial sweeteners. I welcomed that patients with allergies to gluten and lactose may also have it.
Finally, there is a product on the Slovak market that has surpassed all common collagens. The packaging is very practical and well thought out. The big advantage for me is the fact that all the vitamins I need during a normal day are contained in the iCollagen Beauty product. I really recommend this product to every woman to try it. Thank you very much!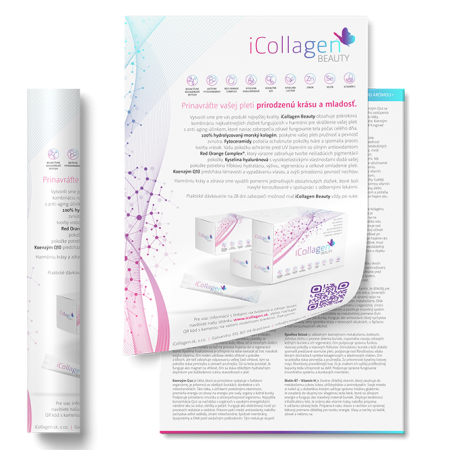 Documents contain handy product information, which you will also find in the iCollagen Beauty package, in a format of an A5 leaflet or a small brochure.
We are looking for B2B partners
Within the B2B segment, we offer our partners interesting benefits.